NORWAY
THE RUSSIAN BORDER
After the Hurricane the weather improved tremendously, and as we sailed to the very top of North Cape on our way to Kirkenes, near the Russian border, the sea felt like a millpond.
Real, proper snow at Kirkenes, but boy is was cold. Never mind, it was a joy to walk in the dry and mostly powder type snow. Not a trace of rain around here.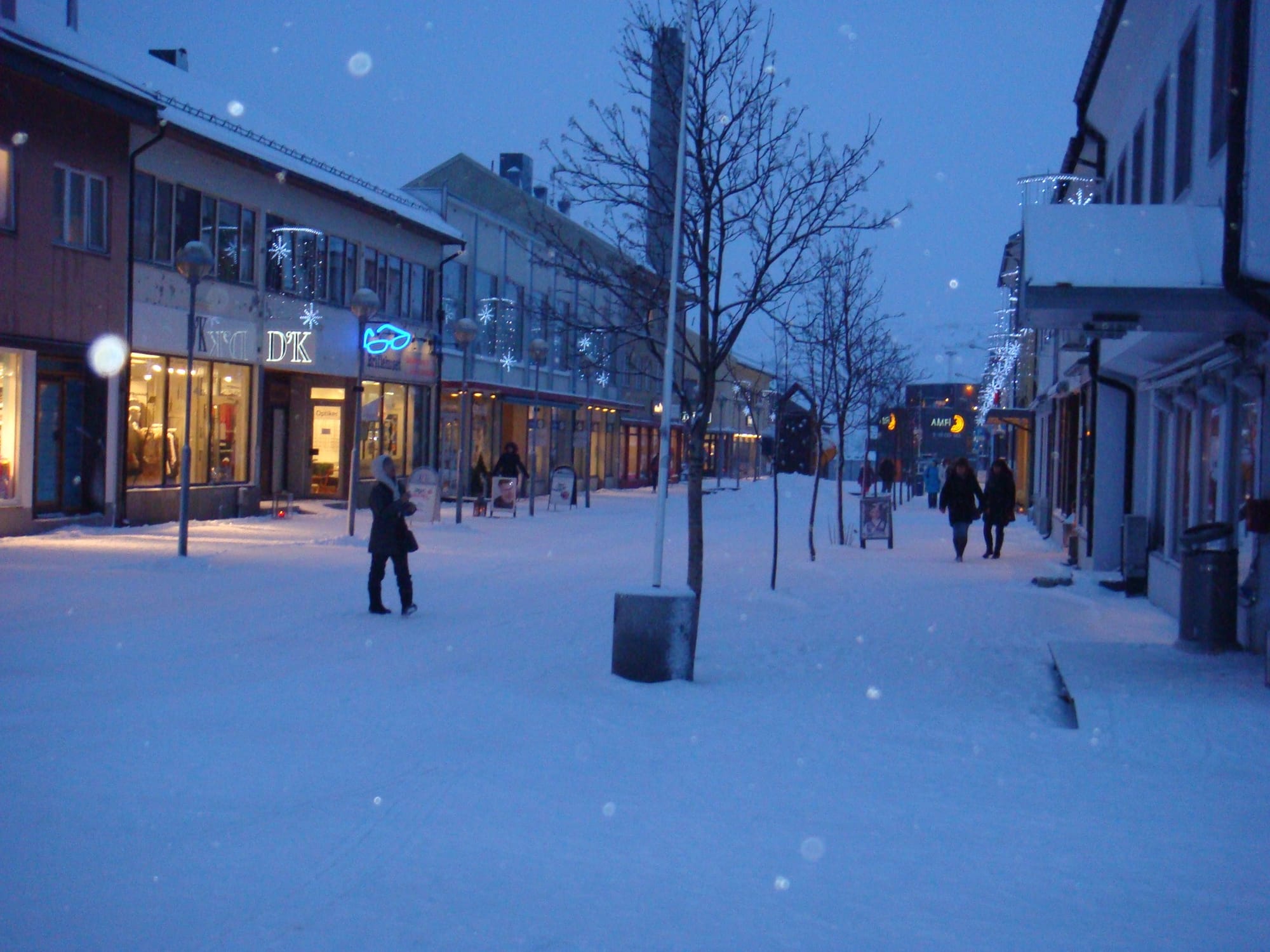 Kirkenes, near the Russian border You'll never guess what shop we found in Kirkenes? A charity Salvation Army shop! Such a surprise, it's the only charity shop I've seen in Norway, but I suspect that there must be more somewhere. There were quite a few beggars too, they sit in the freezing cold streets, dish hopefully held out. You've got to be really down and out to do that in such weather conditions. Poor people.
Some lucky passengers who had booked on the Kirkenes dog sledding trip actually got to go when we docked this morning. Well good for them, it's one of the very few excursions to have actually made it during this past week.
THE LIGHTS?
During evening dinner when the hot main course had been delivered to most tables, a clear announcement boomed over the ship's speakers. "Listen. Everyone! At last! They are here! The Northern Lights are on the left side of the ship."
My goodness it was like the opening doors at the January sales. Within seconds there was a restaurant full of tables laden with hot food, but no patrons to be seen anywhere.
We all rushed to the deck dressed in 'dinner' gear! No coat, no hat, no boots, in fact 'no nuffin' warm to cocoon the exposed flesh.
But I'd waited years to come on this voyage to see these elusive Northern Lights, and the weather had served us something rotten this past week, so this might be my one and only chance. I just couldn't miss it.
MINUS 23 DEGREES
Boy oh boy was it cold outside though. Someone told me it was minus 23 degrees and I could well believe it. Within minutes my cheeks ached and so did my head, it felt like it was being frozen, which I suppose was true in a way. I quickly learned that it was foolish to speak too much as the freezing air crept between the lips and made one's teeth ache. Hubby rushed to the cabin to grab our coats, whilst I temporarily stood frozen, eyes skyward towards the blackness.
Lordy, lordy where were they? I could only imagine that they must have disappeared behind the almost solid dark cloud. Those illusive Lights decided that they were just not going to come out and play with us at that moment.
Passengers gradually returned to the empty restaurant and were glad to be warmed by our now tepid main course food.
A few hours later the loudspeakers again announced that those illusive Lights were visible. This time we ventured forth on the slippery deck fully prepared. Only my eyes could be seen peeping above the scarf and below the two hats and the furry hood. J Thank goodness minus 23 degrees now had less impact.
There were a million stars twinkling above, but only in some parts of the sky were they visible. The clouds also fought for room, and on the whole the clouds were winning the battle.
We squeezed amongst the million people along the side of the ship, of course I'm exaggerating but we were many. Most people sported a camera; some people (the wise ones it turned out) also sported a tripod. The man next to me with the biggest camera outside of the BBC TV reports that I had seen, told me proudly that it had cost almost £5,000, but that included the 'raw' upgrade. (I hadn't a clue what he was talking about!) I looked down at my inadequate looking little Sony camera – it had certainly been upstaged big time.
I clung onto the rail at the back of the ship's narrow walkway, and kept my fingers crossed that the illusive Lights would appear even if it was only for five minutes.
EXPECTATIONS
Now, I'll tell you what I was expecting and what I got.
Firstly, I think I had the totally wrong impression of what the Northern Lights would look like. I've seen pictures, I've seen it on TV, and watched DVD's where the patterns swirl majestically or sometimes streak in various directions. All the post-cards on sale here had shown a sky almost totally lit with green and other wonderful colours.
All this I presumed would be visible to the naked eye, so this is what I expected to see. I also expected these colours to move fairly quickly, not at a rate of knots, but at least quick enough to develop new shapes or swirl in another direction that would be easily seen as I watched. Well, no, I'm afraid that wasn't quite the whole truth.
DESCRIBING THE LIGHTS
What I was able to see that night with the naked eye, and this is going to be so very difficult to describe, was a huge portion of black sky, partly clear of cloud, with twinkling stars visible in those areas. In one very small area a small, slowly crawling green hue changed shape and intensity.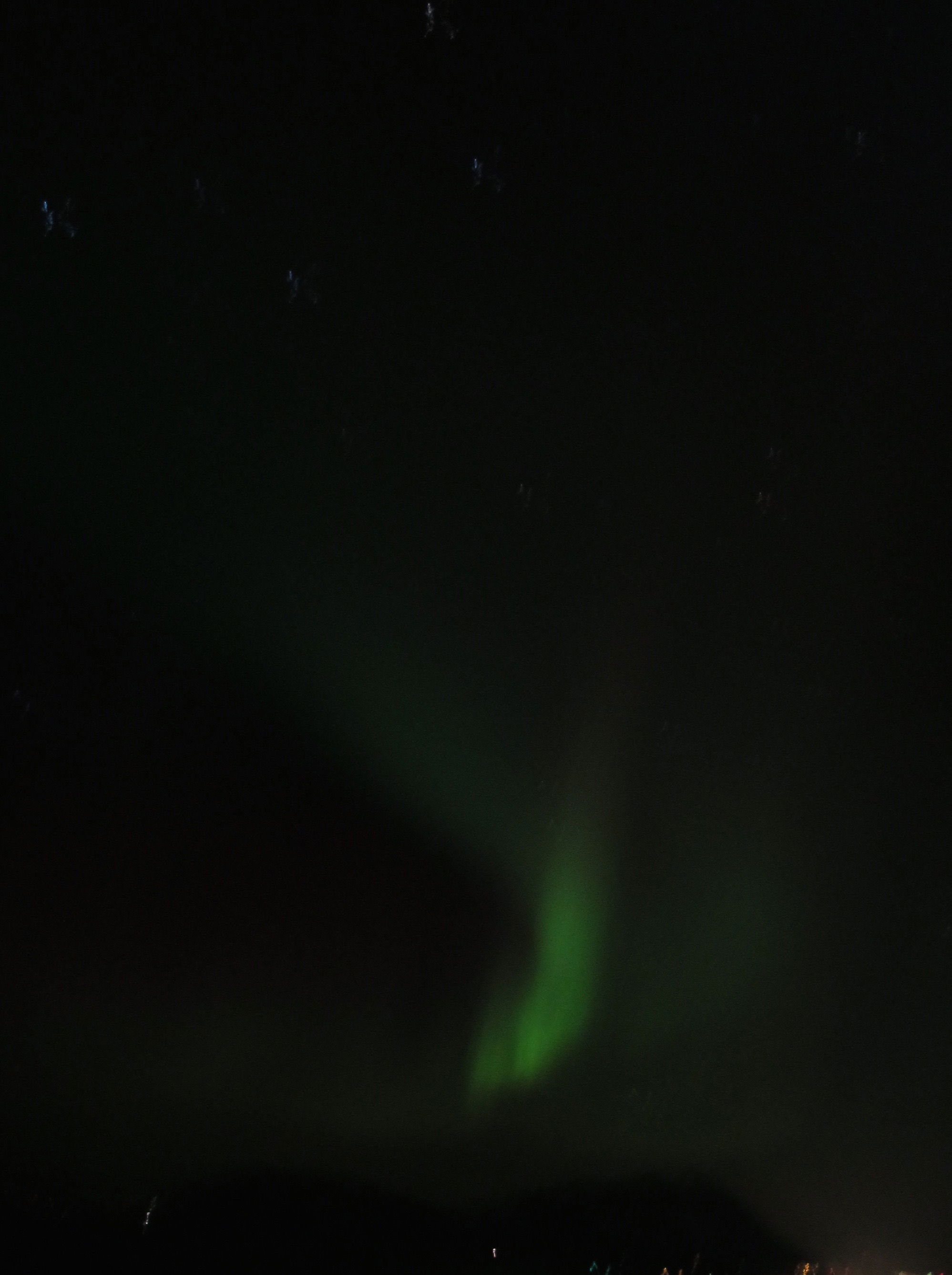 This is what i saw with my naked eye
There was a beauty to it, but it moved in an extremely lethargic, leisurely fashion, at the pace of a very slow snail. Even then I may be exaggerating its speed for there were times when it seemed to hardly move at all. If one stood long enough it inched its way out very slowly in any given direction, it would fade here and develop there, a cloud would 'get in the way' at times, and sometimes it would totally fade like ectoplasm in a Victorian séance.
The naked eye was not good at catching any of this in detail, but we persevered standing in the freezing cold hoping, waiting, willing it to burst forth in all it's glory, reminiscent of the postcards.
Try to imagine smoke slowly rising from a fire way into the distance, but the smoke is a shade of green; sometimes the smoke is a little darker green, sometimes lighter, sometimes vivid. In places night stars might be seen through the transparent smoke and in other areas the smoke appears to be solid. This green smoke twists and moves into shapes unlike ordinary smoke. The Northern Lights are a little like that.
Unfortunately for me that night it never totally filled the sky with magnificent colours, and neither did I see any other colours similar to the post-cards or TV programmes.
However, people on deck with very expensive camera equipment mounted on their tripods experienced a different picture. They would show me camera screens full of colour; some even had red hues amongst the green. Their photographs were wonderful and presented something altogether different to what I could see with my eyes. My camera, I'm afraid, wasn't up to the job, and just showed me an almost empty black sky.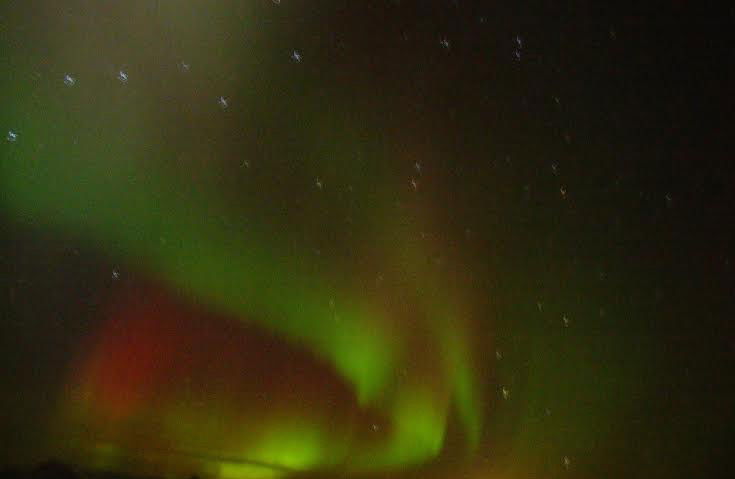 This photograph was kindly sent to me by a fellow passenger who had a fantastic camera mounted on a tripod. He told me that he'd left the shutter open, actually taking the photo for quite some time. It certainly is a lovely shot. I never saw anything like this with my eyes.
We'd come a very long way, and been through some horrendous weather for that night and despite everything that happened along the way I'm glad that we did it. In an unexpected way the Northern Lights really did come out to play.
I'm glad to tell you that they came out again the next night and brought a few of their friends along too. The dark night sky was only ever slightly green to the naked eye, and in no way matched the pictures that I have seen, but just once the green did streak over the ship and curve around the side. The beautiful arctic stars acted as a backdrop and it was worth standing in the freezing darkness just for that moment.
LIGHTING UP THE BANKS
I am very glad to say that the sea on our return journey along the fjords back to Bergen was much kinder. The ship's Captain frequently shone an absolutely enormously bright light onto the banks, so that as we journeyed in the blackness we could see the land. I felt sorry for the occupants of the little houses caught in these search lights, but without it we would never have been able to catch a glimpse of land the majority of the day.
In this area of Norway the sky is very black and the land dark for most of the day (Kirkenes had less than 25 minutes of daylight each day). This was something I hadn't thought of when we booked the trip originally. As we journeyed south the daylight gradually increased, and six days later when we finally docked at Bergen once more daylight hours had increased to about five. However, cloud made this seem shorter for the most part.
Thank you for coming along on this journey with me. I hope that you've enjoyed it, and I hope I haven't put you off visiting the Northern Lights. I have nothing but praise for the lovely Norwegian people; it is just their weather that I didn't like, but I believe we were very unlucky.
If you've enjoyed reading these articles do please leave me a comment. I'd love to hear what you thought.