5 Trondheim in the sleet
DAY FIVE We awoke to another dark grey sky and the usual rain belting noisily against our boat's porthole. I don't know whether there were rough seas last night, if so I managed to sleep despite them. The grey depressing mood lingered into breakfast time when something uplifting happened.
We had moored at Trondheim when to the surprise of the passengers a choir came on board. They sang carols so beautifully it was obvious that everyone was moved. You could see the depressing grey mood of the passengers lifting as the singers filled the restaurant with happy voices.
If you have read the earlier articles in this series you'll know I'm on my way to see the Northern Lights (hopefully), and you'll also know that the weather so far has not been kind to us. I wondered whether Trondheim might be the turning point and the day to prove that the weather in Norway can be dry.
YOU WOULDN'T PUT A CAT OUT IN THIS WEATHER
After breakfast we disembarked to an extremely cold biting wind accompanied by sleeting rain; to be honest we almost embarked again immediately. You wouldn't put a cat out in this kind of weather and yet here we were human beings venturing forth! We'd come a long way and saved hard for this 'holiday of a lifetime', so felt duty bound to make the most of it, fools that we were.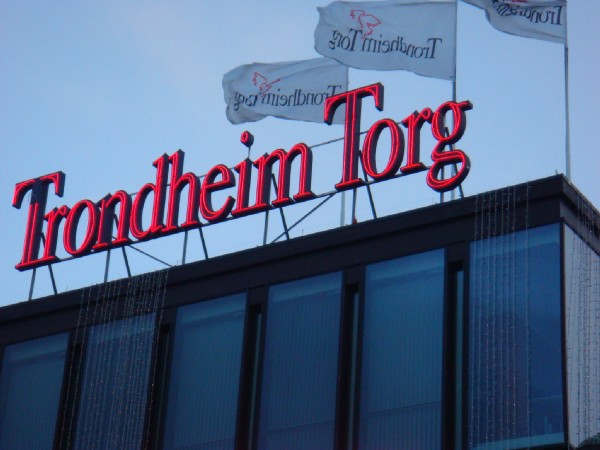 Well, how best to describe Trondheim? I suppose I'd say it was okay; I'm sure yet again I might have thought it really pretty in nice weather.
It took us about thirty minutes to walk into what turned out to be the new part of town, finding the old town centre added another ten minutes or so. We were left with very little time to explore, but what we saw of the old part of town, even in the atrocious weather, we thought very picturesque. Bearing in mind the boat had only docked for two hours we turned and headed back to the place marked on the map (given to us by the boat) as being where our boat would be docked for pickup.
Then the weather got worse and just as we were on top of a huge modern bridge, (so open to all elements on all sides), the hailstones developed into large mini ice arrows! Boy did they hurt the small part of skin that was exposed — the face.
THE DISAPPEARING BOAT!
We eventually arrived where the boat should have been docked according to the map … it wasn't there! It was nowhere in to be seen.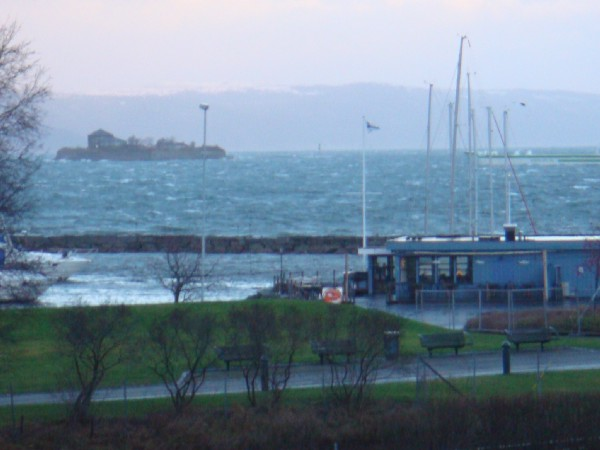 Panic! We had no way of knowing which direction to go and we didn't have oodles of time to get it wrong.
Trondheim on a Sunday morning is pretty dead. All its sensible inhabitants stay indoors in the warm and who could blame them. We remembered that we had passed a hotel earlier, so we retraced our steps. Our plan was to ask them to telephone a taxi, a rare beast that we hadn't seen since leaving Bergen. Luck was on our side for a taxi was parked outside the hotel, and it was empty.
We showed the driver our map, he shook his head in disbelief and I think he said he knew where to find our boat. As least his words sounded something like that, but we had nothing whatever to lose, so left it in his hands. It was over five kilometres back to the boat (we'd never have walked it in time). We were almost 200 kroner worse off when we boarded (about £18-ish), and the poor taxi driver's car was very wet in the back for which I felt sorry.
Later we learned that it had been announced over the boat's loudspeaker after breakfast that the boat would be moving moorings and docking in a different area to that of the map for picking up passengers. Fine, if we'd heard the loudspeaker! Unfortunately, you can't hear the speaker in all areas of the boat, and sometimes if the gales blow particularly loud you can't hear what is being said because of the rattling of plates or whatever.
Wouldn't it have been sensible to place a map highlighting the change right by the disembarking stairs? Staff checking you out could have made sure that you had seen it. No marks here to our Captain. But full marks later for warning passengers that high seas were expected (again!). We weren't told last time, but perhaps the Captain was taken by surprise too.
HIGH SEAS WARNINGS
Even the dinner sitting times were changed on this occasion, the 6.30 pm sittings were moved to 4.30 pm. That's more like afternoon tea, poor things.
We spent the three and a half hours 'high seas period' in our bunks, the only place to be when coats swing violently from left to right on their hooks and everything creaks and groans whilst the odd thing fly off of surfaces.
Ahh it'll be worth it. Won't it? IF we see the Northern Lights, which is looking more and more unlikely with each passing weather forecast.
STAY TUNED … wey-hey! next time we're in the Arctic Circle