NORWAY
2 Bergen in the rain
If you read the first article in this series you'll know I'm on my way to see the Northern Lights (hopefully). I'll keep the boring stuff to a minimum, so suffice it to say that we flew from London to Bergen.
Anyway, there we were at Bergen airport looking for the bus that went to the city. The next thing I knew was that the bus-driver was carrying our suitcase, he advised us of various stops and when we reached town he insisted we take his two umbrellas with us'because', he said, 'it rains such a lot in Bergen' (he was proved 100% correct). How very kind. What lovely friendly people these Norwegians are I thought … all smiles and help.
Once we'd got off of the bus the bus-driver told us he was Portuguese. 'Needs must' he said in perfect English, 'I have work here. There is no work in any of the Southern European countries, all chat and corruption.' It was a pity there was no time to expand on this, as with these words he immediately climbed back on board his bus. So, some happy, smiley Norwegians are in fact happy, smiley Portuguese. What a wonderful world.
I'm sure Bergen is nice, in fact I'd say lovely if only it would stop pouring with rain and the wind wasn't quite so biting. We had booked a nice overnight hotel, and as soon as we'd left our suitcase, we decided to walk around the city centre, which is crammed full of expensive shops.
SOCKS AND ALCOHOL … BUY THEM BEFORE YOU ARRIVE
Everything is much more expensive than England, even a packet of run-of-the-mill ankle socks I needed to buy, and which would have been less than £4 a pack in England, was 107.50 Krone in Bergen (approximately £9.60), which somehow got rounded up to 800 Krone when I got to the till(?).
I'm not going to dwell on all the 'tourist' attraction type things in Bergen, this museum, this art gallery, that 'not to be missed' exhibition, etc. You can read enough about that online or in many books, my information will be based purely on what I've experienced. You might hear about the odd museum in my Norway trip, but it's more likely to be the odd pub and at £8/9 a pint we won't be drinking out too often.
GINGERBREAD
In fact I had carefully cocooned in the centre of our one and only precious suitcase a bottle of brandy and a carton of wine. We came prepared for this 'alcoholic no-afford' region, and it's going to be worth the bloomin' clothes that had to be ditched last minute to get the suitcase down to under 20k weight for the flight. Not that we're alcoholics mind you … hic!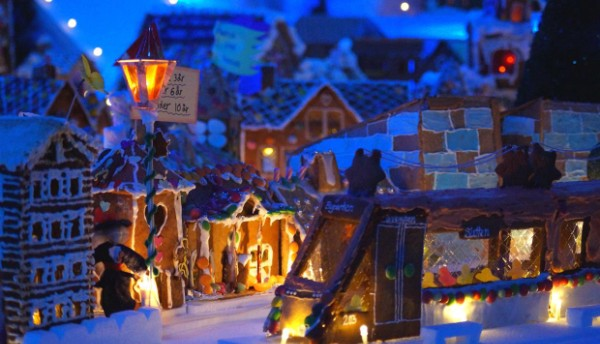 The biggest highlight of Bergen for me was the exhibition of gingerbread city. I was told that it was the world's biggest gingerbread exhibition, and all year long schools made and contributed to the making of this miniature version of Bergen. It was absolutely fantastic. This gigantic indoor area was chocked full with miniature houses; towns, trains, people, rivers, etc. all made of gingerbread and decorated with teeth rotting lovelies.
One excited little boy, about 5 years of age, pressed his finger to his lips and indicated to follow him saying 'shush' over and over. He led us to a small walk-through almost pitch-black cavern with 'spooky' type gingerbreads and Harry Potter type spooky music playing. I think I was as excited as that little boy.
Catch this gingerbread bonanza next winter if you can for I understand it's only a seasonal thing.
Stay tuned. Continues next time when we'll be on the briny sea.